In the quest for better health and well-being, there has been a growing focus on tapping into the parasympathetic nervous system. This emphasis on relaxation, mindfulness, and stress reduction is undoubtedly valuable, but it's crucial to recognize a fundamental truth: the autonomic nervous system (ANS) is never just in one mode. It's in a perpetual state of flux, maintaining a continuous tug-of-war between its two branches: the sympathetic nervous system (SNS) and the parasympathetic nervous system (PNS).
The misconception of pure parasympathetic dominance
In the pursuit of relaxation and stress reduction, there's a common misconception that achieving a state of pure PNS dominance is the ultimate goal. While the PNS is indeed responsible for "rest and digest" activities, it's essential to remember that the ANS is not an on-off switch, but rather a dial — a dynamic system that adjusts to your body's needs in real-time.
Often referred to as the body's autopilot, the ANS regulates countless bodily functions without us even realizing it, from heart rate and digestion to respiratory rate and pupil dilation. While it might be tempting to think of the ANS as a binary switch, with one side turning off as the other activates, the reality is far more nuanced.
Our bodies are engaged in a constant tug of war, with the SNS and PNS in a dynamic manner, adjusting their influence according to our physiological and psychological needs. In certain situations, being more dominant in one mode is more beneficial, but remember, pure dominance in either is rare. This continuous interplay between the sympathetic and parasympathetic branches is essential for our overall health and well-being.
The art of balance: when dominance matters
Imagine a lion chasing you through the savannah; your body's SNS kicks into high gear. Your heart rate soars, your muscles tense, and your senses become razor-sharp – all to help you escape danger and survive. This is a classic example of the SNS taking charge when needed, ensuring your survival in critical moments.
Conversely, during moments of calm and relaxation, the PNS steps in. It slows your heart rate, aids in digestion, and promotes healing and regeneration. When you're enjoying a peaceful night's sleep, engaging in mindful meditation, or simply lounging on the couch, the PNS is the star player, ensuring your body rests, recharges, and recovers.
The modern SNS dominance epidemic
The sympathetic nervous system is designed to respond to immediate threats and challenges. However, the relentless demands of the modern world have led many individuals to remain stuck in this heightened state of arousal, even when no immediate danger is present. The result? An imbalance in the autonomic nervous system that can have profound consequences on physical and mental health.
Here's how SNS dominance affects us:
Chronic stress
Modern life is rife with stressors, from work pressures to financial concerns and constant connectivity through technology. This chronic stress keeps the SNS in overdrive, leading to increased heart rate, shallow breathing, and elevated cortisol levels – all of which can have detrimental effects on health.
Sleep disturbances
SNS dominance often spills into nighttime hours, making it difficult to unwind and achieve restorative sleep. Sleep quality suffers as a result, leaving individuals feeling fatigued and irritable.
Digestive issues
The SNS is not conducive to proper digestion, leading to problems like indigestion, irritable bowel syndrome (IBS), and other gastrointestinal discomforts.
Mental health impact
Persistent SNS activation can contribute to anxiety disorders, depression, and an overall sense of unease.
Reduced immunity
Over time, a continually dominant SNS can weaken the immune system, making individuals more susceptible to illnesses and infections.
Quantifying the autonomic nervous system balance with Biostrap
Understanding this delicate balance within the ANS can seem complex, but wearable technology like the Biostrap Kairos makes it accessible and actionable. Biostrap provides a comprehensive view of your ANS activity, allowing you to fine-tune your lifestyle choices for better health and well-being.
Biostrap's newest device, Kairos, matched with the Vital Science app, empowers users with real-time insight into how much that ANS dial is turned toward PNS or SNS in at any given time of the day.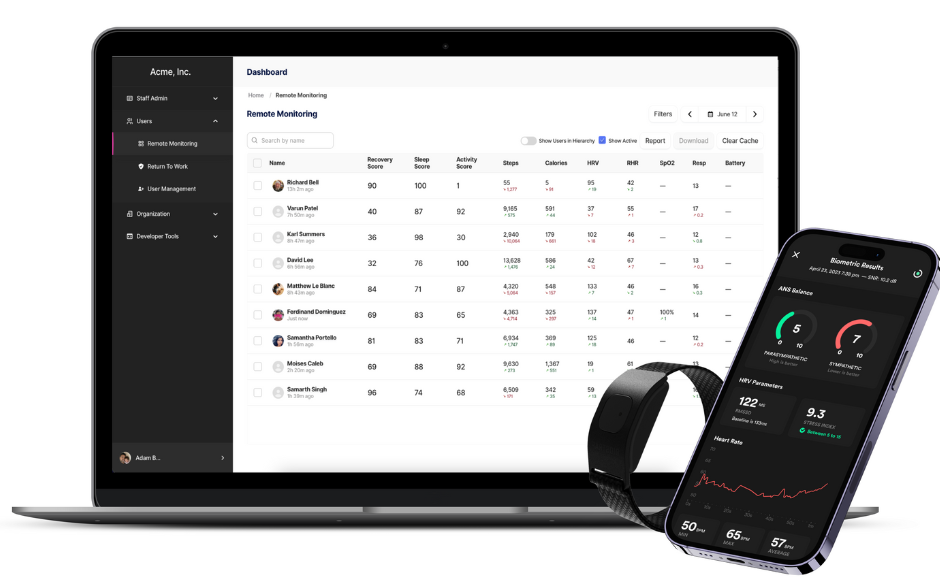 Kairos provides:
Real-time spot check: Kairos offers an assessment of your ANS balance, giving you a dynamic view of your body's state at any point during the day.
Lifestyle insights: Kairos can reveal how certain lifestyle interventions, such as exercise, meditation, or dietary choices, impact your ANS balance.
Actionable guidance: With this data-driven insight, you can make informed decisions about your daily routines, optimizing your activities to achieve better ANS balance.
In a world where the focus on relaxation and parasympathetic nervous system activation is growing, Biostrap provides the tools to help you navigate the delicate balance of your autonomic nervous system. It empowers you to recognize and respond to your body's needs, whether it's a burst of energy for a challenging task or a deep sense of relaxation for restorative sleep. Remember, it's not about switching a switch on and off, it's about learning to toggle the dial back and forth of your ANS for a healthier, more optimal, and more balanced life.